by Dave Sims K9KBM
(Copied from Ad)
When was the last time you used a radio you had built? The BITX40 board is a two board, 40 meter SSB transceiver module kit with digital control! Inside an evening, you can be on-air with this digital SSB transceiver, chatting with the local gang or chasing DX across the world. Plug in the earphones, the included electret mic, tuning and volume controls, and you are on air! Included are high quality connectors, all the needed sockets and jacks, tuning and volume controls, mounting hardware, etc., all for $60.
Technicals
The BITX40 is shipped as a set of two boards : The Raduino and the Main Transceiver Board, with connectors and external components. You have to supply your own cabinet, mic, speaker, power supply and Antenna. Soldering is required, but all of the SMD and other components on the Main Transceiver Board and already soldered in place for you. Your kit-building efforts are little more than connecting the off-board controls via the supplied wiring connectors.
The Raduino
The new BITX40's Raduino is a small, hackable, board utilizing an Arduino Nano to control a rock-steady Si5351 synthesizer and a clean 16×2 frequency display. The program code is free and Open Source. The Raduino features 6 analog ports, three oscillators and six digital lines.
Receiver
Listen to the very clean, crisp, and quiet receiver. The front-end has a triple-tuned circuit that limits out-of-band signals. The diode ring mixer front-end makes this a crisp receiver that doesn't overload easily. The all-analog signal path to your ear provides outstanding signal clarity that must be heard to be believed.
Transmitter
7 watts of low distortion SSB provides you with enough power to have thousands of contacts on 40 meters, daily rag chews, and occasional DX chasing. Any common 2 ampere, 12 linear volts, power supply will provide enough juice for this transceiver. Or you could simply run it from a battery!
Hackable
The BITX40 will inspire you to experiment. Modify it, mount it, tweak it, change it. The Users' Group is filled with plenty of ideas for modifications if you want to experiment.
Raduino uses a standard Arduino Nano that makes it easy to write code in simple C language to work on more modes, bands, utlilities. RIT, dual VFOs, more bands, CW/RTTY are just some code away! Who will be the first to add the Raduino keyer?
The main board comes with all analog large-sized SMD components already soldered on the board. The components are laid out on an easy-to-understand manner on a double sided board with broad tracks to encourage experimentation. There are jump-points from where you can add more modules like the DDS, more bands, better audio amplifier, etc. Your imagination is the limit. You can separately increase the power amplifier's supply voltage to 25 volts to be more than 20 watts of power if you want. (You will have to add a larger heat sink.) The mods are on the way!
The boards can be installed inside any box that you like. Make your own station rigs, man-packs, SOTA rigs, trail radio, or mount it in a cigar box and leave it on your bedside table. Watch the instructions video.
Box Contents
We have tried to include all the connector/hardware you might possibly need to build a full radio. However, we also had to balance the shipping weight to keep the overall cost down. You will have to supply your own box, power supply and earphones/headphones/speaker.
4-1/2 inches by 5 inches tested SSB transceiver module, covering any 400 KHz segment of the 7 MHz band
The Raduino board with Si5351, Arduino Nano with code loaded. Fully tested
High quality BNC connector for the antenna
Small electret microphone
Two earphone-style audio jacks for the mic and the earphones/speaker
A set of DC power socket and plug
Volume control with on/off switch
10k linear pot for tuning
8 brass standoffs with mounting nuts and bolts
Connectors with wires for all connections to the board
Note : A speaker is not included in the kit as earphones/headphones/speakers are easily available locally. No cabinet is included to save on the postage cost. Almost any box maybe used.
Manufacture
The BITX boards are hand assembled by a collective of women. Each of the toroids is hand wound. This provides these women with a livelihood. The assembled boards are then DC checked and a final RF check is performed to check the receiver's sensitivity as well as transmitter's output before being shipped. Each board is individually numbered.
Builders Comments
The most difficult part of this kit is deciding on a container and the mechanical work. You can find many on line pictures showing how to layout and (also how not to) your chassis /container. A few builders made 3D printed cases and offered a free download of their design, one that I particular like is shown below.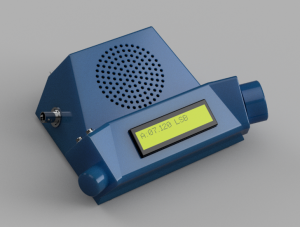 When using a plastic case you should line the case with foil tape, conductive paint or space the assembly off an un-etched PCB blank for best practice. I'll give the instructions an A- and the pictorial an A. Depending on the layout some of the wire leads were long so I took the precaution of twisting the leads with a drill before I cut then to length. If you noticed in the case photo, one knob (the tuning knob) is bigger than the other which provides a better feel for tuning. As mentioned, the mechanical work takes the longest time and effort once completed the electrical portion only takes a few hours. One of the wiring options is to provide the power amp with a higher voltage supply allowing you to double the output.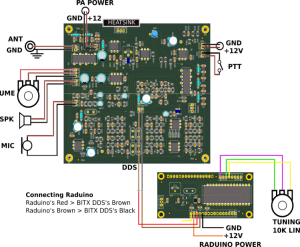 Firing It Up
As a test, the instructions recommend monitoring the current while hooked to a dummy load and noting that the current jumps from .25A to 1 Amp when loudly speaking. That worked well on the dummy load but poorly (very little current change) on an unturned antenna. The receiver worked well on my long wire and station were not difficult to tune in as a large knob worked as a veneer.
Other Offerings
The same company offers a 40M rig and for $114 you can buy an 80 thru 10 transceiver.