By: Mike Griffiths, KD9KMV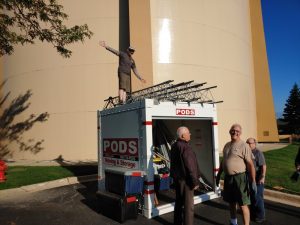 Bright and early this past Saturday morning, a total of 9 club members gave up an hour or so of their time and met at the water tower site in Schaumburg.
The goal was to empty and relocate the contents of the storage POD back into the pump house building.  This goal was successfully achieved!
Thank you to each of you that came out to help.
| | | | | | |
| --- | --- | --- | --- | --- | --- |
| Ed | AC9SD | Mike | KD9KMV | Ken | KD9HIJ |
| Kent | W9KAO | Ron | WB9PTA | Cliff | K9QD |
| Rob | N9MVO | Phil | WB9C | Robert | W9RKK |
Photos from Robert W9RKK