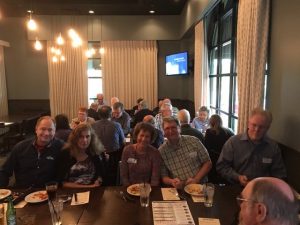 Here is a note from the Club's Social Activities Chair, John Douglas KD9KSH, regarding the recent SARC dinner event.
"My thanks to all those who attended the Sunday SARC dinner.  The Lucky Monk provided a great location and a room suitable for all the SARC participants.  I hope everyone enjoyed the dinner and conversation provided by our club members.  Everyone seemed to go home with a smile on their faces after an evening with old and new friends.
Thanks again for making this a great evening.
John KD9KSH"
Photos from Kevin K9MKD
And a big thank you to John from all the club members, for making this happen.