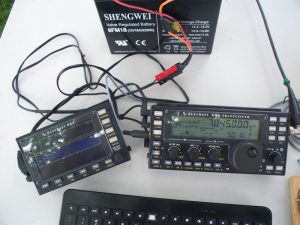 Field Day 2020 was, to say the least, a very different Field Day to any other that we have experienced.  Restrictions caused by the COVID-19 pandemic, meant that the usual format that club members were used to was not possible.  Social distancing and other protective health measures meant that for the most part, Field Day 2020 with SARC had to be done on an individual basis.
Additionally, for the first time, the SARC Board decided to add some competitiveness to the event (unofficially named the "Field Day Is Not a Contest" Contest"), whereby club members could submit proof of their ARRL Field Day submission and have their personal score used to win some club prizes.
So, despite the restrictions, a number of SARC members still participated.  The ARRL amended their rules this year allowing Class D (home stations) to contact other Class D stations, and would therefore be accepted as valid contacts to go towards their score.
To return a little of the social aspect back into the mix, Kevin Shin, K9AAB setup a Zoom room for members to join while they were operating.  This was a great idea and let us stay in touch visually with some of the members.
Here are some photos and videos of club members and their Field Day 2020 experiences.
73, Mike K9KMV