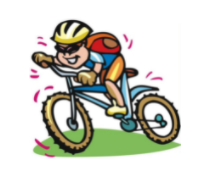 We will have the FIRST SARC Bike Ride on May 8th.
We will start and end at the Rose Garden Restaurant, Elk Grove Village on the SE corner of Higgins and Arlington Heights Road at 9 am. (Ed. see map below)
Calling frequency is EMCOMM CH 4, 147.420 SIMPLEX.
We will walk across the street and start our ride in Busse Woods.  The loop is about 7 miles, with some rides through Grove loops it is a bit longer. Let's see how it goes, knowing this group we want to work of some winter calories and then add them again at end at the Restaurant.
No registration required, just bring your bike, a HT or portable, proper bike attire is your call, like crash helmets and water etc. Family members welcome to join, tell your ham friends if they want to join us, the larger the group the bigger the pile ups or people getting lost. LOL
Out of courtesy to the Rose Garden patrons, let's park towards the back or out of the normal traffic area. I will need some sort of head count for those that want to eat afterwards, but we will figure that out.
See you there.  Hope we will have good weather.
Best Regards, 73
Dirk W0RI