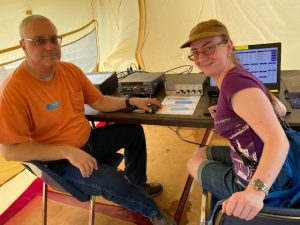 This year, Field Day 2021 was held over the weekend of June 26th/27th.   After the lockdown of 2020, which prevented SARC from holding Field Day last year, we were all thankful that this year would be different.
Many SARC club members came out to help with the setup of the Field Day tents, antenna systems, radio gear and food supplies.
The weather was doing it's best to make it hard for us.  At one point, the wind gusts were so strong that the SSB tent stakes came loose. I was inside the tent holding the mic with one hand, and pushing the inside of the tent away with the other, and thanks to the heroic efforts of Chris (AC9GN) and Mike (AC9CG) who managed to keep the tent from flying away! (see pics)
As is typical from previous years,  there were 3 separate stations:  SSB, CW and GOTA (Get On The Air).  The club station call N9RJV was used, and operated with a 2A-IL Class/Section. 2A indicates 2 main stations in use (GOTA is not included), and A indicates it is a portable setup running from non-commercial power.  IL refers to the location being in Illinois.
The SSB tent's main radio was the venerable Kenwood TS-140, however as the event progressed it was occasionally switched out for either Robert's (W9RKK) Elecraft K3S, or my own Yaesu FT-891.  The CW tent used a Kenwood TS-570.
I have not seen the final score yet, *UPDATE LINK TO FINAL SCORE* or the exact number of contacts made, but I have seen preliminary stats that show the SSB tent made in excess of 330 contacts, and when I left early Sunday morning, the CW tent was in the mid 200's, so it is safe to say that we must have been somewhere close to 600 total contacts.
Hopefully the final tally will be made available soon.
I hope you enjoy looking at some of the photos taken during the event.
73,
Mike K9KMV