SARC sponsors VE (Volunteer Examiner) testing sessions, where you can take your test to become a ham, or upgrade your current ham radio license to a higher class.
FCC Amateur Radio License testing
FCC Amateur Radio License testing normally takes place on the first Saturday of the month at Schaumburg Park District's Community Recreation Center (CRC). The facility is located at 505 N. Springinsguth Rd., Schaumburg, IL 60194 on the southeast corner of Springinsguth Rd. and Bode Rd. Enter the building through the door by the pool on Springinsguth Rd.
Testing will begin at 9:00 AM.
You will need to bring the following:
Valid US driver's license or US Passport
A current FRN Number, or CSCE Form, or Call Sign
A completed Form 605 Application (downlink link below)
A current email address
Fourteen dollars ($14.00) in exact change
A copy of your current radio license that we can retain
A calculator (with memory and programming cleared)
At least one black or blue ball point pen
At least one black lead pencil
An eraser
If this is the first time that you have taken an FCC examination, you will need to have an FCC FRN number before taking the exam.
To apply for an FRN number, go to the following URL and follow directions:
FRN Number
To obtain a current copy of the Form 605 Application, go to the following URL:
Form 605
For the Form 605 please fill out Section 1, which includes all of the information in the top box. Use a blue or black ball point pen. It is important that you print very clearly so that it can be read easily by others. Please print everything using CAPITAL LETTERS.
Be sure that the information on your Form 605 matches exactly with the information on your existing license, your FRN, or your CSCE. For example, if you have a middle initial on your current license, please include it on the Form 605.
If you take an exam and pass, you can take the next higher license exam for no charge.
If you take the exam and fail, you can retake the exam for another $14.00 in exact change. If you take the exam and pass, you can take the next higher license exam for no additional charge.
When you take your examination and pass it, and after the paperwork has been processed, you will be contacted by the FCC via your email address. The FCC will ask you for a payment of $35.00 before you can actually obtain a copy of your official FCC radio license.
If you are planning to take an exam in July, please note: The question pool from which your exam questions are drawn change once every 4 years on June 30. The NCVEC manages the question pool and posts the dates that each exam's pool changes on their web site. In any year roughly 25% of the questions may change. However the core concepts that are tested do not change and anyone studying the concepts (as opposed to the questions) should be well prepared for any changes in the question pool.
Contact the VE testing team at the bottom of this page.
See Also
Location
The VE testing team in July 2018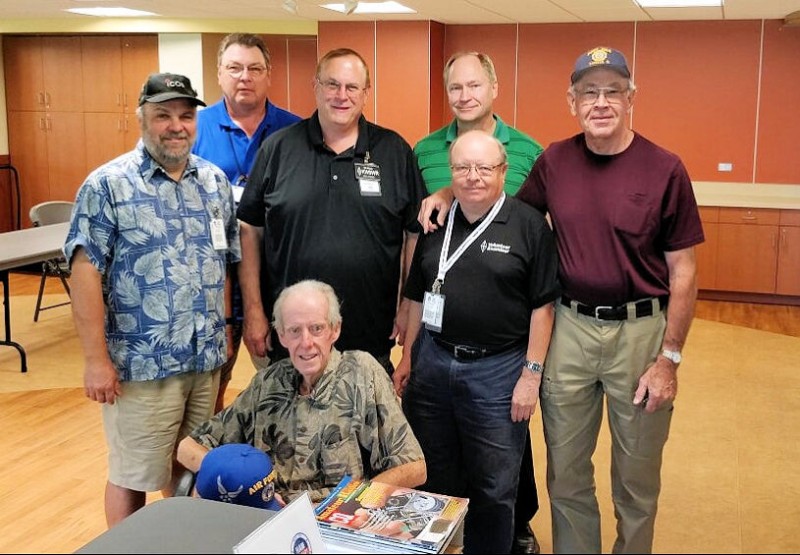 Contact the VE testing team