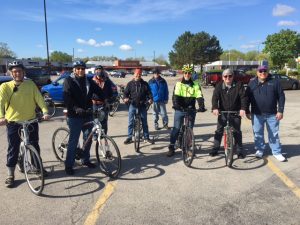 First Annual SARC AR Bike Ride held on Saturday May 8, 2021 in Busse Woods.
Thank You to all that participated. We had nine attendees and several that joined us for Brunch afterwards. The attendees included: Tim-WE9PP, Barry-K9FMB, Bill-W9WEM, Robert-W9RKK, Tony-K9ASB, Dave-W9VTD, Bill-KD9RGX, Rob-N9MVO, Pat KD9PWI and Dirk-W0RI. These people were brave enough to take on the weather being cloudy with 43 degree at the start and around 53 degrees when we finished. The 7 mile route was enjoyable all paved and fairly smooth with numerous joggers, dog walkers and other bikers on the trail.
Only a few hick ups presented itself, one of which was someone was on the ECOMM CH 4 frequency we decided to use. Several with booming Simplex signals were having a morning rag chew so we had to change to another. Our frequency Elmer (Rob) found a free channel. It was all good, no accidents, nobody ran of the path unwillingly, nobody fell into the water and nobody was charged by the Elk at the end of the trail. It appears everyone spent time figuring out how to secure and operate safely on the trail. The only change I would make in the future is to have one person monitor the repeater freq. in case we have to talk someone to the starting point and have a buddy system. Other than that the event went off without a hitch. I think we should do this more often, but not in 90 degree weather !!!
So as I have learned in AR food must be involved in order to make it an official event. Therefore at the end of the 7 mile loop we had brunch at the Rose Garden Restaurant. As you can see Rob N9MVO (Nothing But Trouble) certainly did not skimp at the meal..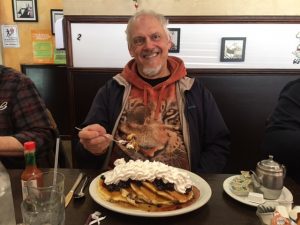 Thank you everyone for participating and lets grow this event, any suggestion for 5,6,7 mile loops at other places are always welcome. PS: With a food place along or at the end of the trail !!!
Just remember some of us are older and hills are not our friends unless you have a power assisted bike or are willing to pull others up those hills.
Until the next ride !!!

Best Regards,   
Dirk Smith
73…..W0RI